The Barbell Rehab Workshop Online Course
---
Improve your ability to coach and modify the barbell lifts for those with pain or mobility limitations.
---
$249

$199
Get for only $49 down! Select "4-Month Payment Plan" at checkout (price is in USD)
---
Buy Now
---
---
Approved for 0.8 category D NSCA CEU(s)
---
---
---
Approved for 7.0 CEUs by the Arkansas State Board of Physical Therapy (recognized in 28 states. See FAQ section)
---
---
Approved for 0.9 NASM CEU(s).
---
Approved for 4.0 CECs by canfitpro
---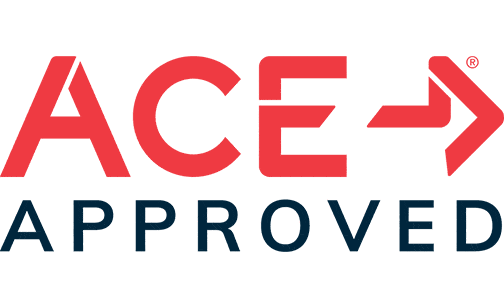 Approved for 0.6 CECs by ACE
Dr. Michael Mash
PT, DPT, CSCS, SFMA, FMS, Cert. TMM
---
Hi, I'm Michael, founder of Barbell Rehab.
If you've stumbled upon this page, I'm glad you're here!
There are a LOT of people out there who need your help. Far too often, I see people with minor aches and pains get lost in the medical model.
They may be told by a physician to stop lifting (because it's "bad" for you) or undergo unnecessary surgeries that keep them out of your gym for months.
I want to help you change that. The principles in this course will not only teach you how to work with people that have pain or mobility limitations, it will teach you how to EMPOWER them to live stronger and healthier lives!
Watch from Home
6.5 hours of video content. At your own pace. Start and stop whenever you want.
On any device
With an easy user interface for mobile, desktop, or tablet. Lifetime access.
Right on this website
No third-party websites or apps needed
Earn a certificate of completion
Pass a 20 question multiple choice quiz and get CEUs!
Private Facebook Group Access
---
The Barbell Rehab Workshop Academy
---
By signing up for this course, you will be granted access to our private Barbell Rehab Workshop Academy Facebook Group!
Here, you can interact with others who have taken this course (both the live and online variations), and ask Dr. Michael questions about the content.
---
Principles of Training and Rehab
In this module, we discuss the principles of load management, pain science, rehab and performance programming, and how to optimize mindset on returning to baseline after an injury.
Training and Modifying the Squat
Here we dig deep into optimizing squat form, variation selection, and what to do when pain arises. Everyone squats differently. Here's where you learn why.
Optimize the Bench Press for Health and Performance
Many people complain of shoulder pain during the bench press. Here, we talk about how to optimize and modify this lift to reduce shoulder pain and increase performance.
Deadlift Form, Variations, and Common Issues
Many people avoid the deadlift because of back pain. In this module, you'll learn how to optimize form and modify it based on anatomy, personal preference, and injury history.
Overhead Lifting and Shoulder Health
Many people avoid pressing overhead in fear that it will cause shoulder pain or due to current discomfort. Here we talk about how to optimize overhead lifting and how we use it to promote shoulder health.
Dr. Jason O'Connor, PT, CSCS, SFMA
---
"Barbell Rehab does a fantastic job bridging the gap from therapy to performance. Michael Mash is THE guy for helping fitness professionals get better at teaching the barbell lifts and fitting them for people of different sizes and skill levels. Definitely recommend for physical therapists, strength coaches, and trainers."
Joseph Lalli, CSCS, NASM-PES
---
"Michael Mash did a fantastic job of applying research into lecture and then into application for a proper take home message. I have already started using some principles from his course into my own professional practice and training as well as my own personal training. I am looking forward to future courses that I can attend."
Matthew Cloutier PT, DPT, CSCS
---
"After yesterday's workshop I feel a surge of optimism that I haven't felt in a long time. Michael's delivery was clear, concise and most importantly palatable. The diversity in the room was incredible and reinforced the thought that we may all have different degrees and positions, at the end of the day we were a room full of people helping each other to help people. Fantastic workshop I look forward to attending another one."
---
"The best continuing education course I have attended. I stayed interested the entire time and had no issues following along or paying attention. Everything was relevant to my practice. Michael is clearly knowledgeable about what he is teaching and was able to answer all questions asked. Highly recommend!"
Lindsay Sutera, PT, DPT, OCS

---
"I am grateful for attending the Barbell Rehab Workshop because part of growing in your craft is learning from other amazing individuals such as Michael. Michael was very genuine in sharing his story and his knowledge, leaving nothing on the table. I would recommend his workshop to anyone who wants to be their best for their clientele. I am already impelling the knowledge I learned in my programming and it's working! Thank you Michael. "
---
"I greatly enjoyed the workshop! I think a good amount of very useful information was presented that both experienced physical therapists and personal trainers could benefit from. It is fantastic how information is put together for all professionals. That way, DPTs can see how their patients' can benefit from strength training after rehab, and trainers know when they need to step back and send their client to a DPT. The instructor is very professional but personable as well."
Daiva Radaviciute, B.A. in PT, CSCS,
---
Take this course at your own pace with no time limit for completion. Enjoy lifetime access!
---
If you don't train the barbell lifts or don't work with people who do, this workshop probably isn't for you.
Become the go-to professional in your area and help your clients reduce pain and improve performance!
---
$249

$199
Get for only $49 down! Select "4-Month Payment Plan" at checkout (price is in USD)
---
I'm Ready to Up My Game!
---